2018 Summer Sacklunch Serenades Schedule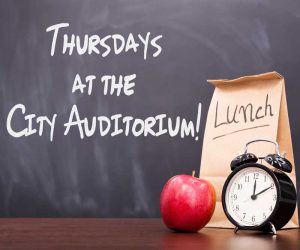 Location:
Historic Colorado Springs City Auditorium
221 East Kiowa Street in Downtown Colorado Springs
Home of the Mighty Chief Theatre Wurlitzer pipe organ.
Time: Thursdays at Noon
Our Amazing 24th Season!
The Pikes Peak Area Theatre Organ Society in cooperation with The Historic Colorado Springs City Auditorium proudly present Mighty Wurlitzer Wonder! Music and Movies to eat your lunch by!! No admission charge, but your donations are very welcome.
May 31st – Mike Guyote — The new guy opens the season!
June 7th – Jim Calm — June is bustin' out at the City Aud!
June 14th – Bob Flinn — Flag Day Celebration & More!
June 21st – Dave Weesner — Our 450th Show! How great is that?!
June 28th – Mike Guyote and the Al Kaly Shriners Dixielanders!
July 5th – Jim Calm — Let's continue the Celebration!
July 12th – Jim Calm + Special Guest Deloy Geoglein returns!
July 19th – Bob Flinn — Hot music fun in the summer sun!
July 26th – Nick Taylor &. Mike Guyote — Two artists, many keyboards!
August 2nd – National Artist Dave Wickerham returns! WOW!
August 9th – Jim Calm— The Special Ragtime Show, Anything Goes!
August 16th – Bob Flinn — School starts, but we're not done yet!
August 23rd – Nick &. Mike — Once is not enough!
August 30th – The Season Finale — Come one, come all players!
Schedule is subject to change; any changes will be announced at the shows
Bring your own lunch or buy it here. There is a $5 Lunch SPECIAL.
Call Dave Weesner with questions or to confirm scheduled artist at 719 473-2010.