Jelani Eddington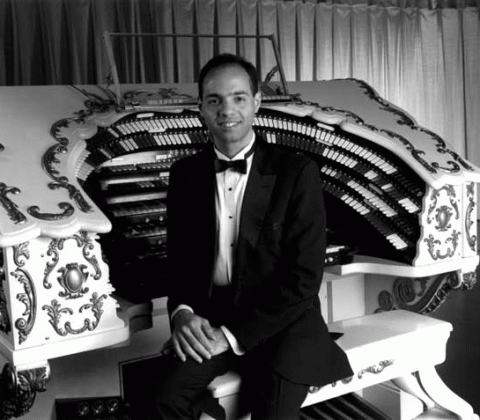 Shortly after beginning piano instruction at the age of four, Jelani began studying classical piano under the direction of his grandmother. At the age of eight, a trip to hear the 4-manual 42-rank Wurlitzer theatre pipe organ installed in the Indianapolis, Indiana restaurant, the Paramount Music Palace, introduced Jelani to the sounds of the theatre pipe organ. Soon thereafter, he began to pursue classical organ lessons and ultimately began studying theatre organ under the direction of John Ferguson, whose skills as a theatre organ instructor have been highly acclaimed internationally.
In the spring of 1988 at the age of 13, Jelani won the American Theatre Organ Society's Young Theatre Organist Competition, prevailing over competitors ages 13-21 from the United States, England, Australia, and New Zealand. Jelani remains the youngest competitor ever to win this title. Jelani went on to graduate Magna Cum Laude from Indiana University in 1996, and later received a Juris Doctor degree from the Yale Law School in 1999, after which time he was admitted to practice law in New York State.
During the course of his concert career, Jelani has been featured at numerous national and regional conventions of the American Theatre Organ Society, and has toured extensively throughout the world, including numerous concert appearances in the United States, Canada, Australia, New Zealand, England, Wales, Holland, France, and Germany. Jelani has also distinguished himself as a recording artist and has produced numerous theatre organ albums on some of the best-known and most dynamic instruments in the country.
In August 2001, the American Theatre Organ Society honored Jelani's extensive career as a concert and recording organist by naming him the 2001 Theatre Organist Of The Year. Having received the award at the age of 27, Jelani retains the distinction of being the youngest-ever recipient of this prestigious honor.
PPATOS Events:
Seminar: Friday, July 21, 2006 10:00AM at the Mt. St. Francis Auditorium. The theme was Registration and Phrasing. Morning and afternoon sessions  included voluntary student playing time on the 3/20 Wurlitzer.
Concert and Picnic: Saturday July 22, 2006 3:00PM at Joel's Organ Barn in Kiowa, CO.